Return to Headlines
Back to School Newsletter
---
2023-2024 LSCS District Back to School Newsletter
---
Welcome Back Eagles!
The first day for Lake Station Community Schools students is Wednesday, August 16, 2023! We hope you have enjoyed your summer and are ready to begin the new school year. Teachers and staff have been working diligently, preparing for the new year and we are excited to see everyone. Please check out these friendly "Back to School" reminders.
Important Note: If you have not completed online registration, you need to complete it today in Skyward!
HOW TO VIEW SCHEDULES
Schedules are now posted in Skyward Family Access. Please log in as a student or guardian to see them. Directions for how to view schedules are below.
Edison students: If you have schedule questions, please send them to: schedules@lakes.k12.in.us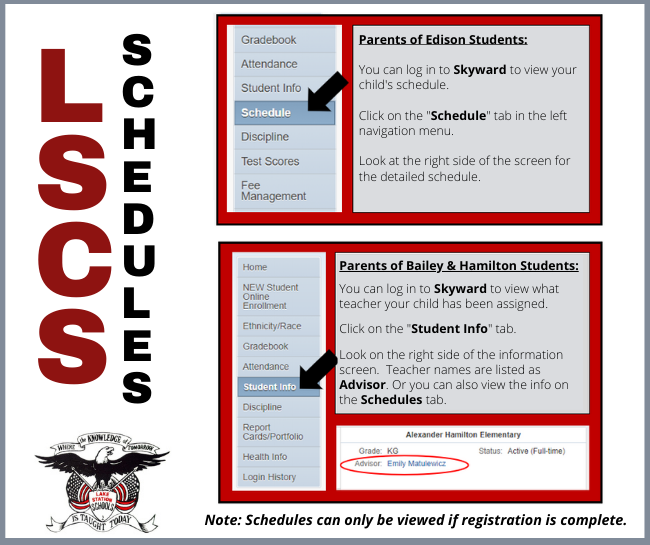 LSCS CHROMEBOOKS
Lake Station Community Schools is a 1:1 school district. This means all K-12 students receive a Chromebook on loan from the district to use for their school work. New students who do not have their LSCS Chromebook yet will receive it within 7 days of starting school.
Our Device Issuance and Usage Policy is located inside of the District Student Handbook, which is signed by guardians during online registration. Please ensure you review this policy carefully. Chromebooks must be returned to the district when withdrawing from school.
If your Chromebook is damaged or you need IT assistance for it, please fill out a Student Help Desk ticket. Additional IT questions can be sent to: studenttechsupport@lakes.k12.in.us.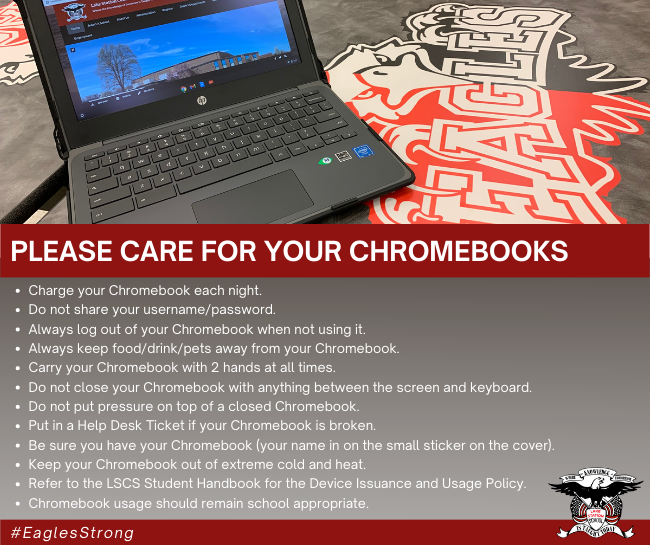 HELPFUL INFORMATION ON THE SCHOOL WEBSITE
Looking for other helpful information for the 2023-2024 school year? Check out our Lake Station Community Schools website: https://www.lakes.k12.in.us. There is a "Helpful Documents & Shortcuts" section with a lot of links to items such as our school calendar, bus routes, school supply lists, dress code information and more!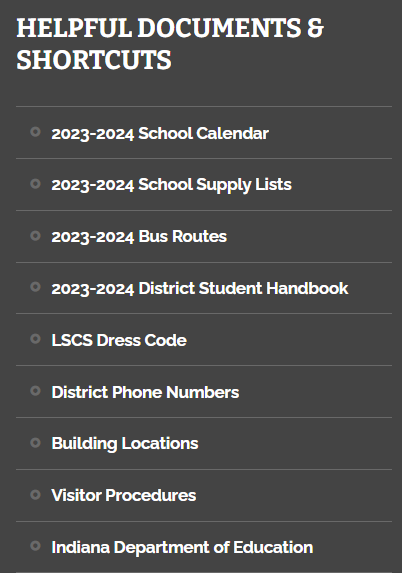 STAY CONNECTED
Keep your Skylert Information up to date inside of Skyward Family Access. Skylert is the system we use to send out emails, phone calls, and text messages to our families. If your phone number, email address or physical address changes please be sure to log into Skyward to make the updates right away so that you will still get critical information throughout the school year. You can also notify the main office if you need assistance.
Follow us on social media and download our free LSCS App to keep up to date also! We will make posts often throughout the school year.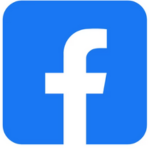 Follow us on Facebook: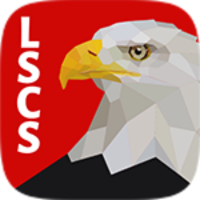 Download our Free App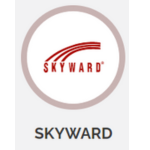 Log into Skyward
Log into Skyward to view student attendance, grades and discipline. If you do not know your Skyward guardian username and password you can click on the "Forgot your Login/Password?" link on our Skyward log in page, or you can reach out to the secretary at your child's school. Helpful tip: Log in to Skyward, click on "My Account" in the upper right corner and set up your Email Notification Preferences for attendance and grading emails.

FRIENDLY REMINDER FROM THE INDIANA STATE POLICE